Mangrove Reforestation
Mangroves provide habitat for a wide range of marine and avian species. They also play a critical role in reinforcing the integrity of Belize's coastline but the health and function of mangroves is being affected by unsustainable tourism practices. Reforestation projects have been established in the Placencia Lagoon with the aim of stabilizing the coastline and restoring the mangrove habitat. The primary reforestation technique in the Placencia lagoon has been the use of transplants from natural nursery areas. Several known sites have had considerable success with some sites exhibiting mangrove survival of over 10 years.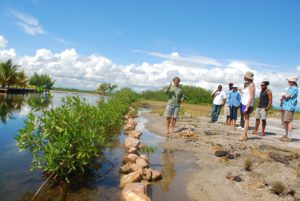 Technical Workshop
Fragments of Hope conducted a mangrove technical training with the aim to engage participants in constructive dialogue about reforestation efforts taking place in Belize. Lessons learnt and results of previous mangrove reforestation efforts were shared with participants and they were introduced to a variety of reforestation methods. Technical presentations focused on reforestation case studies, avoiding maladaptation, reforestation techniques, hard engineering integration and introduction to the Riley Encasement Methodology by mangrove.org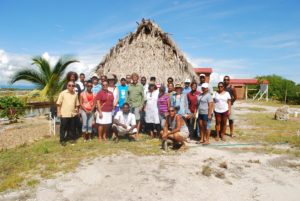 The aim of the session was to ensure that participants are able to prioritize coastal management interventions based on site vulnerability to natural and anthropogenic threats, and to use the most effective method that would result in the highest survival potential. The training session also included a site visit to historical reforestation sites in the Placencia lagoon and to natural mangrove nurseries. It involved 26 participants, including representatives from the Department of Environment, The Belize Zoo, SEA, CZMAI, PTGA, other small organizations and the private sector.
REM Mangroves
Reforestation in high-wave environments is very challenging due to the extreme conditions that such efforts are required to overcome. The Riley Encasement Methodology (REM) has been used at several sites in Belize to successfully established mangroves in such conditions. This approach offers great potential for windward coastlines and offshore cayes that are affected by climate change and human activities. Based on a thorough site assessment of the erosion status of Laughing Bird Caye, and the conditions affection the site, REM mangroves were established in 2015. Mangrove leaders responsible to advance the reforestation work for Fragments of Hope have been monitoring the progress of the reforestation project. A total of 53 REM mangroves were established as part of the initial training and follow up activities
.
A summary report of our reforestation plan can be accessed at the following link: Mangrove Reforestation Plan